DJOF69
DJ / Producer
Shows auf Evosonic:
AbSOULUTE Beach
Style:
Style Deep House, Melodic Techno, Progressive House, Afro House, Downtempo, Nu Disco
mehr von DJof69: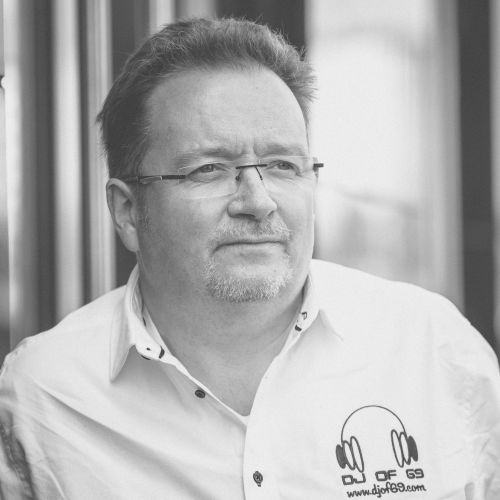 Biografie
(english below)
Es war im Frühjahr 1984, als ich das erste Mal, eher zufällig, hinter den Decks stand. Dies war in einem Keller eines Jugendhauses in Leverkusen. Mehr als 100 Gäste feierten in der "Phonothek" und tanzten zu "Sweet Dreams" oder zu Queens "I want to break free". Dies war auch das allererste Stück was ich jemals vor Publikum aufgelegt habe. Das war auf einem Technics SL7, einem Tangential-Plattenspieler, Mixen? Unmöglich!
Der Spaß an der Musik war und ist immer noch im Vordergrund für meine Arbeit und natürlich die Emotionen die Musik auslösen kann. Ich mag die DJs nicht, die sich hinter Ihrem Pult mit Cappy auf dem gesenkten Kopf verstecken. Ich mag es die Leute zu beobachten. Über die Jahre hatte ich so die Möglichkeit viele tolle und großartige Momente zu erleben.
Biography
(german above)
It was in the spring of 1984 when I stand for the first time behind the decks. That was in a cellar of a Youth House in Leverkusen. More than 100 guests celebrated in the "phonothek" and danced to "Sweet Dreams" of Eurithmics or to Queens "I want to break free". This 7" Vinyl of Queen was the very first rekord I played in front of an audience. On a tangential turntable. I think it was Technics SL7 at the time. The turntables were absolutly unsuable for mixing. Touching the rekord while playing? Impossible
The happieness with music was and is still in the foreground for my work and of course the emotions that music can trigger. I don't like the DJs hiding behind their cappy and face down, I like to watch the people. Over the years I have been able to experience so many great moments.

Seine Shows:
AbSOULUTE BEACH / LIVE
mit DJof69
Jeden Donnerstag 20-21 Uhr
Style: Deep House, Melodic Techno, Progressive House, Afro House, Downtempo, Nu Disco
Inhalt: DJ Set, LIVE in the Mix.
Teilen: