MESSENGER
Shows auf Evosonic:
THE SIGNAL
Style:
Psytrance, Goa, Progressive Trance, Progressive Techno, Psychedelic Techno, Melodic Techno, Minimal, Tech House
mehr von THE SIGNAL: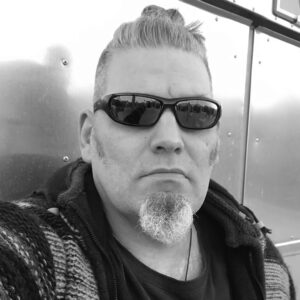 Biografie
(english below)
Ich wurde am 21. Januar 1981 in Wiesbaden geboren und wuchs in Rheinhessen auf. Überwiegend geprägt vom Musikgeschmack meiner Mutter: Soul, Funk, 70's House und 80's Dance Musik entwickelte ich recht früh ein Faible für elektronische Musik, früheste Berührungspunkte stellten für mich Jean Michel Jarre sowie Anne Clarke dar.
Ende 1993 hörte ich im Radio zufällig RPR1 Maximal, in dieser Nacht befasste sich Tillmann Uhrmacher thematisch mit den Werken von Thorsten Fenzlau, anlässlich dessen Ablebens.
Seitdem hatte ich den "Schaden" und ich orientierte mich nun an dem was die Frankfurter Szene musikalisch erschuf. 1996 begann ich mich nun selbst auf Partys und Raves als Hörer zu bewegen, auf dieser Reise stieß ich neben den größeren Clubs der Region auch irgendwann auf dass Signalwerk, einen der ersten Goa/Psy Clubs Deutschlands den ich für mich entdeckte. Nach einer äußerst bewegten und prägenden Zeit in der Techno- und Psytrance- Szene musste ich in den frühen 2000er Jahren auf die Bremse treten, also begann ich meine zweite Ausbildung, stellte das Feiern zurück und fokussierte mich auf das Aufzeichnen von DJ Sets auf den Partys, die in unserer Szene stattfanden.
2013 stand ich nun vor einem Riesen Haufen gesammelter Musik, also beschloss ich, mir dass Mixen autodidaktisch bei zu bringen, immerhin hatte ich ja schon jahrelang mit den Augen und Ohren geklaut. Was als Selbstexperiment mit einem "roten Pioneer DDJ SB" begann, entwickelte sich weiter und weiter. Nach recht kurzer Zeit war mir klar, dass mir dass Mischen liegt. Ich beschloss mir bessere Hardware zu gönnen. Den Pioneer verschenkte ich an einen alten befreundeten DJ, welcher zu dieser Zeit im Grunde das Auflegen aufgegeben hatte, in der Hoffnung ihn aus seinem kreativem Loch zu befreien.
Meine Motivation war es nie, in irgendeiner Weise kommerziell als DJ erfolgreich zu werden. Ich beschränke mich hauptsächlich darauf, die "Traumata" meiner Jugend musikalisch zu verarbeiten 😉 Hin und wieder spielte ich auf Geburtstagen, an Grillabenden, Afterhour's oder auch mal auf dem Infostand der Freifunk-Gruppe Wiesbaden an Folklore im Garten 2017.
2019 bin ich im Evosonic Chat mit Stimpy ins Gespräch gekommen, nach längeren Chats über die späten 90er, den Frankfurter Sound und wie mich das Signalwerk musikalisch geprägt hatte, durfte ich einen technoiden GuestMix für seine Show Eclectix machen, der auf absolut positive Resonanz unter den Hörern stieß, unmittelbar danach lud mich Moni von der Technoküche (Radio Rheinwelle) ein, einen Abend zusammen mit DropOut mit Livemusik zu gestallten. Kurz danach durfte ich noch einen weiteren GuestMix für Martin Vitzthum's Westufer machen.
Aufgrund des durchweg positiven Feedback's beschloss ich ein Konzept für eine Sendung zu erarbeiten und dafür Mitstreiter zu suchen. Diese zu überzeugen und auf einen einheitlichen Level zu bringen, war jedoch die allergrößte Herausforderung, letztlich bewarben sich neben mir DropOut, AquadiJoe und Der Kleister um einen Sendeplatz für die heute allseits beliebte Show The Signal.
Seither war ich der zentrale Ansprechpartner und die Schnittstelle zu Evosonic und der Kopf hinter The Signal. Dies zeichnet sich unter anderem in der gesamten Außendarstellung von The Signal ab, begonnen beim Flyer, der Aufmachung der Episoden und allem was den Wiedererkennungswert  steigert. Durch diese Entwicklung konnte ich mich persönlich weiter professionalisieren und ich bin dankbar für das Vertrauen, das Evosonic heute in mich setzt.
.
Biography
(german above)
I was born on 21 January 1981 in Wiesbaden and grew up in Rheinhessen. Influenced mainly by my mother's taste in music: soul, funk, 70's house and 80's dance music, I developed a soft spot for electronic music very early on. My earliest points of contact were Jean Michel Jarre and Anne Clarke.
At the end of 1993, I happened to be listening to RPR1 Maximal on the radio. That night, Tillmann Uhrmacher was thematically dealing with the works of Thorsten Fenzlau, on the occasion of his passing. Since then I had the "damage" and I now oriented myself to what the Frankfurt scene was creating musically. In 1996 I started to go to parties and raves as a listener myself, on this journey I came across the Signalwerk, one of the first Goa/Psy clubs in Germany, which I discovered for myself, in addition to the larger clubs in the region. After an extremely eventful and formative time in the techno and psytrance scene, I had to put on the brakes in the early 2000s, so I started my second apprenticeship, put partying on the back burner and focused on recording DJ sets at the parties that took place in our scene.
In 2013 I was faced with a huge pile of collected music, so I decided to teach myself how to mix, after all I had been stealing with my eyes and ears for years. What started as a self-experiment with a "red Pioneer DDJ SB" developed further and further. After a short time it was clear to me that mixing was my thing. I decided to treat myself to better hardware. I gave the Pioneer to an old DJ friend of mine, who had basically given up DJing at that time, hoping to free him from his creative hole.
My motivation has never been to become commercially successful as a DJ in any way. I mainly limit myself to musically processing the "traumas" of my youth 😉 Every now and then I played at birthdays, barbecues, after hours or even at the info booth of the Freifunk group Wiesbaden at Folklore im Garten 2017.
In 2019, I got into conversation with Stimpy in the Evosonic Chat, after lengthy chats about the late 90s, the Frankfurt sound and how the Signalwerk had musically influenced me, I was allowed to do a techno guest mix for his show Eclectix, which met with an absolutely positive response among the listeners, immediately afterwards Moni from the Technoküche (Radio Rheinwelle) invited me to arrange an evening with live music together with DropOut. Shortly afterwards I was allowed to do another guest mix for Martin Vitzthum's Westufer.
Due to the consistently positive feedback, I decided to work out a concept for a program and to look for comrades-in-arms. Convincing them and bringing them to a uniform level was the biggest challenge, however. In the end, DropOut, AquadiJoe and Der Kleister applied for a slot on the now universally popular show The Signal.
Since then, I have been the central contact and interface to Evosonic and the brains behind The Signal. This is reflected, among other things, in the entire external presentation of The Signal, starting with the flyer, the presentation of the episodes and everything that increases the recognition value. Through this development, I have been able to further professionalise myself personally and I am grateful for the trust Evosonic has placed in me today.
Ihre Shows:
THE SIGNAL
mit THE SIGNAL
Jeden Sonntag, 22:00 – 00:00 Uhr
Style:
Psytrance, Goa, Progressive Trance, Progressive Techno, Psychedelic Techno, Melodic Techno, Minimal, Tech House
Inhalt:
The Signal ist eine Hommage an das Signalwerk und die zeitgenössische Musik, Kunst und Kultur der alternativen Musik Szene rund um Frankfurt, Wiesbaden, Mainz, Bingen ausgehend von den späten 90er.
Teilen: