KAY BARTON
DJ / Producer / Radio Host
Shows auf Evosonic:
WIENER WOHNZIMMER, SOPHISTICATED RHYTHMS
Records auf Evosonic:
Style:
Techno, Acid und Electronica Techno
mehr von KAY BARTON: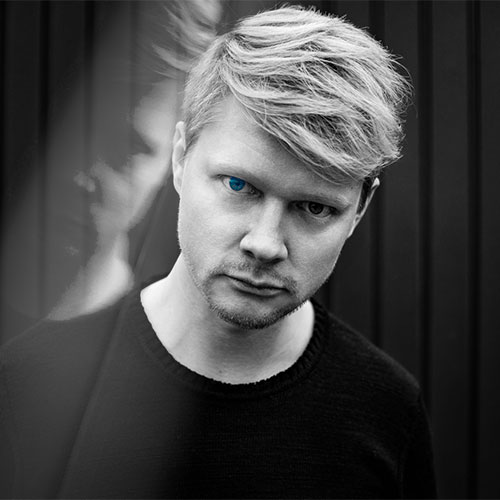 Biografie
(english below)
Kay Barton wurde 1980 in Norddeutschland geboren. Bereits im Alter von 14 Jahren begann er mit der Produktion elektronischer Musik mit simpler DOS-Betriebssoftware. Mit seinem Umzug nach Süddeutschland in die Nähe von Heidelberg im Jahr 1997 bekam Kay die Möglichkeit, tatsächlich an seiner Karriere zu arbeiten. Neben dem Produzieren begann er als DJ zu arbeiten und spielt seither dynamische Techno und Tech House Sets. Im Laufe der Jahre spielte Kay bei vielen Veranstaltungen oder im Rahmen selbiger, wie Loveparade Berlin, Street Parade Zürich und G-Move Hamburg, sowie für verschiedene deutsche Rundfunksender und Radiostationen (z.B. Sunshine Live).
Neben regulären Bookings veranstaltete Kay auch selbst regelmäßig Events rund um die elektronische Musik an verschiedenen Orten im Rhein-Main-Gebiet, wie z.B. "The Place To Be" oder "Trendwaende". Nach Veröffentlichungen verschiedener Arten von elektronischer Tanzmusik unter verschiedenen Künstlernamen konzentriert sich Kay nun unter seinem bürgerlichen Namen Kay Barton auf reine Techno und Tech House Musik.
2016 debütierte er hier mit seiner Single "Return 01", die auf dem international bekannten belgischen Plattenlabel Bonzai veröffentlicht wurde. 2019 erschien Kays EP "Macro God" sowohl digital als auch auf Vinyl bei Emerald & Doreen Records. Für die pumpenden Techno- und Acid-Tracks bekam er Remix-Unterstützung vom Loveparade-Gründer Dr. Motte sowie von Mijk van Dijk, zwei Große der elektronischen Musik. In seiner aktuellen Veranstaltungs- und Mix-Reihe "Sophisticated Rhythms" bringt er unterschiedliche Künstler der Techno-Szene in Mix-Podcasts, Live-Streams oder Club-Events zusammen.
Biography
(german above)
Kay Barton was born in North Germany in 1980. From just 14 years of age he started producing electronic music by using basic DOS operating software. After moving to Southern Germany near Heidelberg in 1997, Kay was given the possibility to actually work on his career for the first time. Besides producing he started working as a DJ and ever since he plays dynamic techno and tech house sets. Over the years Kay has played in many national and international locations, at events like or in the frameworks of Loveparade Berlin, Street Parade Zurich and G-Move Hamburg as well as for several German broadcast transmitters and radio stations (e.g. Sunshine Live).
Apart from bookings Kay regularly hosted numerous events dedicated to electronic music in different locations around the Rhine-Main area, such as "The Place To Be" or "Trendwaende". After releases of various kinds of electronic dance music under different artist names Kay now focus on straight techno and tech house music under his real name Kay Barton.
2016 he debuted here with his single "Return 01" which has been released on the internationally known Belgian record label Bonzai. 2019 Kay's EP "MacroGod" appeared on Emerald & Doreen Records both digitally and on vinyl. For this pumping techno and acid tracks he got remix support by Loveparade founder Dr. Motte as well as by Mijk van Dijk, two techno godfathers and international artists who both heavily shaped the early Berlin underground music scene in the 90s just after the fall of the Berlin Wall. In his current event and mix series "Sophisticated Rhythms" he brings together different artists from the techno scene in either mix podcasts, live streams or club events.