NOAH LEVIN
DJ / Producer
Style:
Techno, Tech-, Progressive-, Deep House
mehr von Noah Levin:
back to Record Artists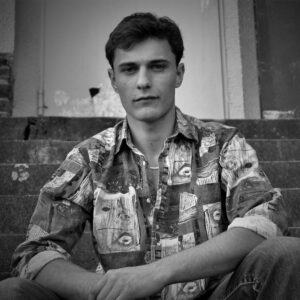 RELEASES on EVOSONIC RECORDS
Biografie
(english below)
Noah Levin, Sohn von Janja Mihaljevic, DIE Stimme von Evosonic und Chris Maico Schmidt aka Mike S., Mister Evosonic, kam kurz nach dem Sendeschluss des legendären Radio Senders, Anfang 2000, zur Welt. Da war klar, wohin die musikalische Reise geht. Als Teenager noch großer Fan von deutschsprachigem Hip Hop und Bewunderer von Sprachkünstler wie Kool Savas, musste erst die 2 vor der 0 stehen, bis elektronische Musik dem Hip Hop das Wasser reichen konnte. Es dauerte auch noch ein paar Monate, bis ihm bewusst wurde, welch musikalischen Wurzeln in seiner Familie stecken.
Der Startschuss zum Wandel von Konsumenten zum DJ, gab die Show "MikeLike Auslaufen" auf Evosonic Radio, mittlerweile zum erfolgreichen Internetradio mutiert, immer noch geführt vom Papa. Bei der ersten Show saß er noch vor dem Radio, eine Ausgabe später, saß er schon im Studio und hinter, bei der Show eine Woche danach neben dem Papa. Ende 2020 hat ihn selbiger die Wochenende Ausgabe vom Evopool Update anvertraut. Zusammen mit Julia Löwenherz begleitet er nun jeden Samstag eine der wichtigsten Radiosendungen auf …. Ihr wisst schon.
Regelmäßige Gastauftritte bei einigen Ausgaben der "MikeLike" Reihe, Einsätze bei Silvester- und Geburtstagsshows On Air, machten ihn schnell zum festen Bestandteil der Evosonic Crew. Nicht etwa durch den Familien Bonus, sondern einzig und allein durch sein Können. "Ich habe noch nie jemanden erlebt, der so schnell kapiert hat, um was es beim DJing letztendlich geht. Und das obwohl er noch lange nicht seinen Style im großen Genre Wirrwarr der elektronischen Musik gefunden hat", so der Vater. Chris Maico Schmidt fügt noch hinzu: "In Zeiten von Corona war es im bisher leider nicht vergönnt, als DJ vor Publikum zu spielen. Wenn der Virus besiegt ist und er dann bereit ist, die Clubs der Welt zu rocken, könnte er ein ganz großer werden".
Der so wichtige Schritt zum Musikproduzenten umso ein großer zu werden, wie prophezeit, ist auch schon vollbracht. Zusammen mit …. Ihr wisst schon, hat er ein paar Tracks erfolgreich zur Veröffentlichung "editiert"!
….. to be continued.
BIOGRAPHY

(german above)
Noah Levin, son of Janja Mihaljevic, THE voice of Evosonic and Chris Maico Schmidt aka Mike S., Mister Evosonic, was born shortly after the legendary radio station went off the air, in early 2000. It was clear then where the musical journey was going. As a teenager he was still a big fan of German hip hop and admirer of spoken word artists like Kool Savas, but it took a 2 before a 0 for electronic music to catch up with hip hop. It also took him a few more months to realize the musical roots that run in his family.
The starting signal for the change from consumer to DJ was the show "MikeLike Auslaufen" on Evosonic Radio, meanwhile mutated to a successful internet radio, still run by his dad. At the first show he was still sitting in front of the radio, one issue later, he was already sitting in the studio and behind, at the show a week later next to the dad. At the end of 2020, he was entrusted with the weekend edition of Evopool Update. Together with Julia Löwenherz, he now accompanies one of the most important radio shows on …. every Saturday. You know.
Regular guest appearances on some editions of the "MikeLike" series, stints at New Year's Eve and birthday shows on air, quickly made him an integral part of the Evosonic crew. Not because of the family bonus, but solely because of his skills. "I've never seen anyone who understood so quickly what DJing is all about. And this despite the fact that he is far from having found his style in the great genre jumble of electronic music," he says. Chris Maico Schmidt adds: "In the times of Corona, he has unfortunately not been able to play in front of an audience as a DJ. If the virus is defeated and he is then ready to rock the clubs of the world, he could become a very big one".
The so important step to become a music producer around so a large one, as prophesied, is also already accomplished. Together with …. You know, he has successfully "edited" a few tracks for release!
….. to be continued.