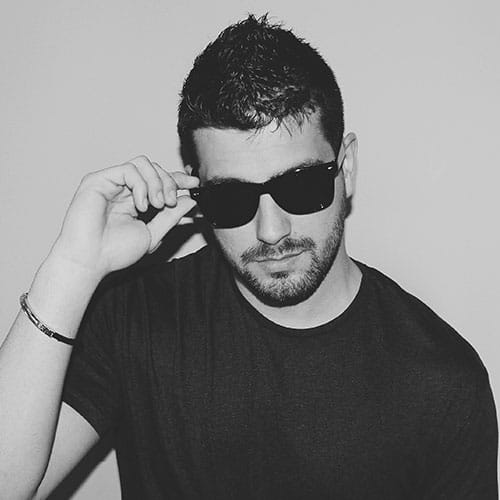 RELEASES on EVOSONIC RECORDS
Biografie
(english below)
Begann seine musikalische Karriere im Alter von 6 Jahren, an der Professional Conservatory of Music in Ceuta. Um die 18 Jahre beginnt, seine Facette der Musik Instrumentalist mit Elektronik kombiniert Jazz und Funk mit diesem gleichen, die Schaffung einer perfekten Atmosphäre.
Seine Karriere des saxofomista Haus führt Sie zu einem großen Teil des spanischen Territoriums, teilen eine Kabine mit vielen der großen der Szene und handeln in einigen der renommiertesten Hallen der gleichen (Pacha Barcelona, Café del Mar, Café del Sol, Góngora (cordoba), Budha (Sevilla), Sala EM). Auch hat ihn dazu geführt, in den Hallen des Nachbarlandes Marokko, 555 Famous Club, Zenzi Bar, Hotel, Kube Club, Space Club zu handeln. Seine Leidenschaft für die Musik nimmt Sie interessiert zu sein, nicht nur in der Interpretation, wenn nicht in der Schaffung ihrer eigenen Tracks, Und hier beginnt er seine Karriere als Produzent von Elektronik, interessiert nicht einzigartig durch fast alle von der gleichen, von der Deep-House tiefer, bis die Techno mehr kraftvoll, seine Produktionen wurden von einer großen Anzahl von Labels bearbeitet und von einigen der größten Künstler der Zeit unterstützt.
Doch das ist noch nicht alles. Im Jahr 2017 gründete er zusammen mit seinem engen Freund Markez Lauser sein eigenes Plattenlabel. Sustain Records, die von der Minute eins des Lebens wurde mehr und mehr durch die Listen der wichtigsten Seiten der Downloads steigen, sowie die Unterstützung für viele der Szene zu gewinnen.
BIOGRAPHY

(german above)
Began his musical career at the age of 6 years, at the Professional Conservatory of Music in Ceuta. To the 18 years begins to combine his facet of music instrumentalist with electronics combining jazz and funk with this same, creating a perfect atmosphere.
His career of saxofomista house takes you to a large part of Spanish territory, sharing a cabin with many of the great of the scene and acting in some of the most prestigious halls of the same (Pacha Barcelona, Café del Mar, Café del Sol, Góngora (cordoba), Budha (Sevilla), Sala EM). Also has led him to act in the halls of the neighboring country Morocco, 555 Famous Club, Zenzi Bar, Hotel, Kube Club, Space Club. His passion for music takes you to be interested not only in interpreting, if not in creating their own tracks, And here he begins his career as a producer of electronics, interested non unique by almost all of the same, from the Deep-House deeper until the Techno more forceful, his productions have been edited by a large number of labels and supported by some of the greatest artists of the time.
Does not end it all here. In 2017 launched its own record label together with his close friend Markez Lauser. Sustain Records which from the minute one of life has been rising more and more by the lists of the main pages of downloads, as well as gaining support for many of the scene.