DAVE REYAS
DJ
Shows auf Evosonic:
THE FIFTH ELEMENT
Style:
House
mehr von Dave Reyas: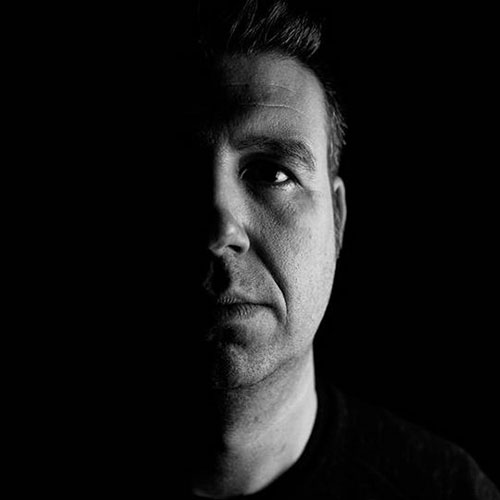 Biografie
(english below)
Seit seiner Kindheit schaute er zu seiner DJ-Mutter auf, einer der ersten weiblichen DJs in Antwerpen, wo sie in einem lokalen Club Motown- und Jazz-Platten auflegte. Während er mit diesen Platten spielte, wurde er schon in jungen Jahren mit dem Musikvirus infiziert. Von seinen ersten Ersparnissen kaufte er sich die 'Thriller'-LP und von diesem Moment an folgten viele weitere Käufe. Später wuchs die Liebe zur House-Musik und er begann, seine kreativen Mixing-Fähigkeiten zu entwickeln.
In den frühen 90er Jahren kaufte er House- und Trance-Platten in einem lokalen Geschäft namens Blitz", dem Hauptsitz von Bonzaï". Als er in die Clubszene einstieg, lernte er die Tricks und Kniffe des Handwerks und machte seine ersten Schritte zum Auflegen vor einem Live-Publikum.
Von diesem Moment an wurde er regelmäßig auf lokalen Partys und in Clubs eingeladen. Im Laufe der Jahre variiert sein Stil von 'Trance' zu 'Progressive', 'House' zu 'Techhouse' zu 'Techno'. In den folgenden Jahrzehnten spielte er in vielen bekannten Clubs wie La Rocca, Café d'Anvers, Red & Blue, BBC, Outline… wo er sich einen Namen auf der Tanzfläche machte. Seine besondere Art, das Publikum auf eine Reise durch mentale Atmosphären mitzunehmen. Er bietet ihnen euphorisches Vergnügen, einen sicheren Hafen, um sich gehen zu lassen.
Immer aufgeschlossen und bereit, seinen Charme einzusetzen. Er spielt jetzt unter zwei Namen: 'Dave Reyas' und sein Alter Ego 'LLtramuse'. Sein Stil ist eine Mischung aus 'electronica/indie/deephouse/melodic house & techno/techhouse/progressive/techno'. Dave Reyas' spielt eher allgemeinere Klänge, LLtramuse' hingegen spielt mehr 'dark/raw/techno' Beats.
Biography
(german above)
Since childhood he looked up to his dj mum, one of the first female djs in Antwerp, where she played 'Motown' & 'Jazz' records in a local club. While playing with these records he got the music virus at a very young age. With his first savings he bought the 'Thriller' LP and from that moment, many more purchases followed. Later on the love for 'House' music grew and he began to develop his creative mixing skills.
In the early 90ties he started buying 'House' & 'Trance' records in a local store called 'Blitz', the headquarters of 'Bonzaï' records. By entering the club scene, he continued to learn the tricks of the trade and took his first steps towards spinning in front of a live audience. From that moment on he was asked regulary at local parties and clubs.
During the years his style varies from 'Trance' to 'Progressive', 'House' to 'Techhouse' to 'Techno' The following decades he played in many famous clubs like La Rocca, Café d'Anvers, Red & Blue, BBC, Outline.. where he made his mark on the dancefloor. His special way of taking the crowd onto a journey through mental atmospheres. Giving them euphoric pleasures, a safe haven to let yourself GO. Always an open mind & ready to bring his charm. Now playing under two names 'Dave Reyas' and his alter ego 'LLtramuse' his style contains a mixture of 'electronica/indie/deephouse/melodic house & techno/techhouse/progressive/techno', 'Dave Reyas' plays more commonly sounds, 'LLtramuse' in contrast plays more 'dark/raw/techno' beats.
Seine Shows:
THE FIFTH ELEMENT
mit DAVE REYAS
Jeden fünften Sonntag im Monat, ab 16:00 Uhr
Jeden fünften Freitag im Monat, ab 20:00 Uhr
Style: House
Inhalt: In the Mix